The uvula is the small fleshy tissue that extends down from the soft palate of the roof of your mouth and dangles over the back of your tongue, looking a bit like the ringer inside of a bell. This combination of muscle and glandular tissue produces saliva and is also thought to be important to normal speech and swallowing.

In some people, a long uvula can contribute to snoring by creating a noisy flutter during sleep. If the long uvula and/or soft palate cause breathing problems as well, surgery may be recommended.

Some infants are born with a split (bifid) uvula, which can signal a cleft palate in the soft palate of the roof of the mouth. These infants may be watched carefully as they grow into toddlers for speech problems to determine whether surgery to repair the cleft palate is needed.
Continue Learning about Ear, Nose and Throat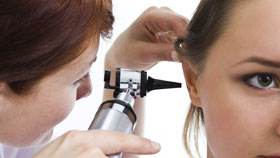 Ear, nose and throat (ENT) problems can impact your life in many ways, affecting your hearing, sleep, breathing, and even your sense of balance. An otolaryngologist, also called a head and neck surgeon, treats these issues, as wel...
l as more serious problems like cancer. Learn more about ear, nose and throat problems from our experts.
More