Tonsils and adenoids are a collection of lymph tissue in the back of the throat. The lymph system helps in recognizing infections. The tonsils and adenoids help in preventing infections in the back of the throat. However, sometimes they can become chronically infected or swollen, causing problems. At this point, the tonsils and adenoids may be removed.
Tonsils and adenoids are glands that are part of your body's lymphatic system and help to protect you from germs that enter your body through your mouth and nose. Your tonsils are two round lumps of tissue located at the back of your throat that you can see in a mirror if you open your mouth wide. Your adenoids are lymph tissues that are not visible through your mouth or nose, but sit high in your throat, behind your nose and above the roof of your mouth.

Although tonsils and adenoids protect you from infection, they sometimes can become infected and some people have repeated infections that may include abscesses on the tonsils. In other people, tonsils and/or adenoids can become enlarged, causing problems with normal breathing, swallowing and sleeping. If these problems occur, your doctor may recommend surgical removal of the tonsils (tonsillectomy) and/or the adenoids (adenoidectomy).
Continue Learning about Ear, Nose and Throat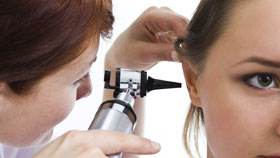 Ear, nose and throat (ENT) problems can impact your life in many ways, affecting your hearing, sleep, breathing, and even your sense of balance. An otolaryngologist, also called a head and neck surgeon, treats these issues, as wel...
l as more serious problems like cancer. Learn more about ear, nose and throat problems from our experts.
More