Earwax is a normal product that the body makes in the ear canal. It helps to protect and moisturize the ear canal. Too much wax or old, hardened earwax can sometimes cause problems.
Your child may have the following symptom:
Temporary hearing loss can be caused by tightly packed earwax.
This can happen when someone tries to get it out with a cotton swab or other object and pushes it in by mistake.
Continue Learning about Ear, Nose and Throat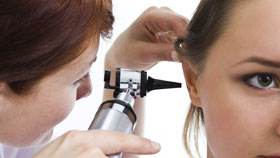 Ear, nose and throat (ENT) problems can impact your life in many ways, affecting your hearing, sleep, breathing, and even your sense of balance. An otolaryngologist, also called a head and neck surgeon, treats these issues, as wel...
l as more serious problems like cancer. Learn more about ear, nose and throat problems from our experts.
More