Sounds of 80 dB or less are believed to be safe for nearly all healthy adults, no matter how long you hear them. Sounds of 85 dB should be limited to no more than eight hours a day, and 90 dB to four hours for a healthy adult. Limit 100-dB sounds to 1 hour and 120-dB sounds to a few minutes.. Sounds in the range of 125 to 140 dB are loud enough to cause pain and hearing loss immediately unless you protect your ears with earplugs. The long-term health effects of high noise levels for children are unknown; therefore, the thresholds cited here may be too high for them.
Continue Learning about Ear, Nose and Throat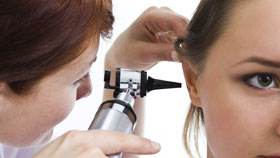 Ear, nose and throat (ENT) problems can impact your life in many ways, affecting your hearing, sleep, breathing, and even your sense of balance. An otolaryngologist, also called a head and neck surgeon, treats these issues, as wel...
l as more serious problems like cancer. Learn more about ear, nose and throat problems from our experts.
More