Although complications can occur even when the esophageal dilation procedure is performed correctly, they are rare when performed by doctors who are specially trained. A perforation, or a hole of the esophagus lining, occurs in a small percentage of cases and may require surgery. A tear of the esophagus lining may occur and bleeding may result. There are also possible risks of side effects from sedatives.

It is important to recognize early signs of possible complications. If you have chest pain, fever, trouble breathing, difficulty swallowing, bleeding or black bowel movements after the test, tell your doctor immediately.

Continue Learning about Ear, Nose and Throat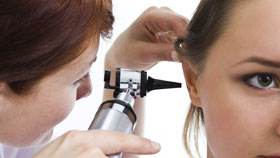 Ear, nose and throat (ENT) problems can impact your life in many ways, affecting your hearing, sleep, breathing, and even your sense of balance. An otolaryngologist, also called a head and neck surgeon, treats these issues, as wel...
l as more serious problems like cancer. Learn more about ear, nose and throat problems from our experts.
More