The Eustachian tube runs from the normally air-filled middle ear to the side and back of the mouth and throat. The throat end of this tube is C-shaped cartilage, which is closed while at rest and then opened by the surrounding muscles. As a child grows, the Eustachian tube changes its relationship to the surrounding muscles, with the result that in the period between 2 and 8 years of age it is difficult to open the tube.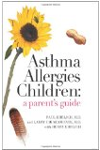 More About this Book
Asthma Allergies Children: A Parent's Guide
Asthma and allergies are at epidemic proportions. It doesn't have to be that way. Two experienced pediatric allergists tell everything a conscientious parent needs to know about these conditions,...
Continue Learning about Ear, Nose and Throat