The eardrum, or tympanic membrane, is a slender skin-like structure about a half-inch across and about the width of a strand of hair. Although small and slender, the eardrum is a tight barrier that separates the outer ear from the middle ear, a peanut-sized chamber in the skull that's filled with air.
Continue Learning about Ear, Nose and Throat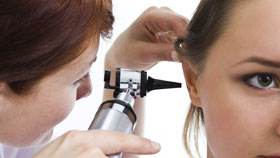 Ear, nose and throat (ENT) problems can impact your life in many ways, affecting your hearing, sleep, breathing, and even your sense of balance. An otolaryngologist, also called a head and neck surgeon, treats these issues, as wel...
l as more serious problems like cancer. Learn more about ear, nose and throat problems from our experts.
More