Think of the ear as being made up of three parts, the outer ear, the middle ear, and the inner ear:
The outer ear is made up of the visible part of the ear (the auricle) and the ear canal, which is lined with thin skin.
The middle ear is made up of the ear drum (tympanic membrane) and three small bones of hearing (ossicles). These three small bones are named the malleus (hammer), the incus (anvil), and the stapes (stirrup), and they help carry sound inward.
The inner ear is made up of the cochlea or hearing organ, and the balance canals.
Continue Learning about Ear, Nose and Throat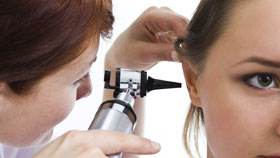 Ear, nose and throat (ENT) problems can impact your life in many ways, affecting your hearing, sleep, breathing, and even your sense of balance. An otolaryngologist, also called a head and neck surgeon, treats these issues, as wel...
l as more serious problems like cancer. Learn more about ear, nose and throat problems from our experts.
More