Rhinology is a subspecialty of ear, nose and throat. In this video, Satish Govindaraj, MD is director of endoscopic skull base surgery at The Mount Sinai Medical Center, discusses the specialty.
Continue Learning about Ear, Nose and Throat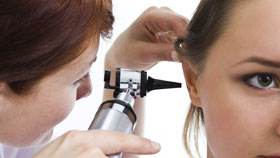 Ear, nose and throat (ENT) problems can impact your life in many ways, affecting your hearing, sleep, breathing, and even your sense of balance. An otolaryngologist, also called a head and neck surgeon, treats these issues, as wel...
l as more serious problems like cancer. Learn more about ear, nose and throat problems from our experts.
More