A nasal endoscopy is a test performed to diagnose the structural abnormality causing your structural rhinitis. This is done by using a fiber optic instrument to view the insides of your nasal passages and sinuses. This may need to be done by an ear, nose, and throat doctor.
Continue Learning about Ear, Nose and Throat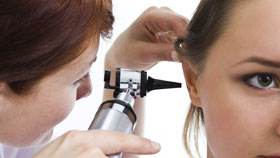 Ear, nose and throat (ENT) problems can impact your life in many ways, affecting your hearing, sleep, breathing, and even your sense of balance. An otolaryngologist, also called a head and neck surgeon, treats these issues, as wel...
l as more serious problems like cancer. Learn more about ear, nose and throat problems from our experts.
More