The larynx is an organ at the front of your neck. It is also called the voice box. It is about 2 inches long and 2 inches wide. It is above the windpipe (trachea). Below and behind the larynx is the esophagus.
The larynx has two bands of muscle that form the vocal cords. The cartilage at the front of the larynx is sometimes called the Adam's apple. The larynx has three main parts:
The top part of the larynx is the supraglottis. The glottis is in the middle. Your vocal cords are in the glottis. The subglottis is at the bottom. The subglottis connects to the windpipe. The larynx plays a role in breathing, swallowing, and talking.
The larynx acts like a valve over the windpipe. The valve opens and closes to allow breathing,
This answer is based on source information from the National Cancer Institute.
Continue Learning about Ear, Nose and Throat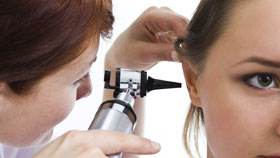 Ear, nose and throat (ENT) problems can impact your life in many ways, affecting your hearing, sleep, breathing, and even your sense of balance. An otolaryngologist, also called a head and neck surgeon, treats these issues, as wel...
l as more serious problems like cancer. Learn more about ear, nose and throat problems from our experts.
More