Esophageal dilation is a procedure that allows your doctor to dilate, or stretch, a narrowed area of your esophagus [swallowing tube]. Doctors can use various techniques for this procedure. Your doctor might perform the procedure as part of a sedated endoscopy. Alternatively, your doctor might apply a local anesthetic spray to the back of your throat and then pass a weighted dilator through your mouth and into your esophagus.
In esophageal dilation (also called pneumatic dilation), an endoscopic tube is inserted through the mouth and into the esophagus. A balloon is launched inside the esophagus to stretch muscle fibers inside the LES. The procedure is best performed by a gastroenterologist who specializes in achalasia and who has performed many esophageal dilations, because there is a risk of perforating the esophagus, which has to be repaired with surgery. Dilatation causes some scarring which may increase the difficulty of Heller myotomy if the surgery is needed later. Gastroesophageal reflux (GERD) occurs after pneumatic dilatation in some patients. Pneumatic dilatation is most effective on the long term in patients over the age of 40; the benefits tend to be shorter-lived in younger patients. It may need to be repeated with larger balloons for maximum effectiveness.
Because the minimally invasive surgical procedure for achalasia is so effective, few patients are referred now for pneumatic dilatation.

Continue Learning about Ear, Nose and Throat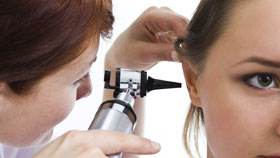 Ear, nose and throat (ENT) problems can impact your life in many ways, affecting your hearing, sleep, breathing, and even your sense of balance. An otolaryngologist, also called a head and neck surgeon, treats these issues, as wel...
l as more serious problems like cancer. Learn more about ear, nose and throat problems from our experts.
More