Otolaryngologists are surgeons that specialize in treatments for the head and neck area. Watch Chadwick Ahn, MD, of Frankfort Regional Medical Center, explain more about his profession.
An otolaryngologist or ear, nose, and throat physician (ENT) is a medical doctor (MD or DO) that examines and treats problems associated with the ears, nose, throat and related structures of the head and neck. The otolaryngologist trains at least five years in this field after medical school.
This head and neck surgeon also performs and supervises hearing and balance testing and diagnoses and treats common problems such as ear infections, tonsillitis, and sinusitis as well as more serious infectious diseases of the head and neck such as cancer.
In addition, an otolaryngologist fits people for hearing aids and performs surgical cochlear implants, among other treatments. After passing a national examination, the otolaryngologist can be board certified by the American Board of Otolaryngology.
Continue Learning about Ear, Nose and Throat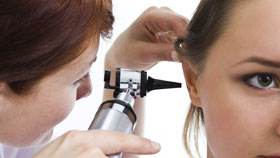 Ear, nose and throat (ENT) problems can impact your life in many ways, affecting your hearing, sleep, breathing, and even your sense of balance. An otolaryngologist, also called a head and neck surgeon, treats these issues, as wel...
l as more serious problems like cancer. Learn more about ear, nose and throat problems from our experts.
More