An ear examination, also called an "otoscopy," is a visual examination of the outer and inner parts of the ear, including the eardrum, using a medical instrument called an otoscope that is equipped with a light. Doctors and other medical professionals may perform an ear examination to find the cause of pain or other symptoms affecting the ear. An ear examination can help a doctor diagnose the following problems:
infection of the outer or inner ear
dental problems or teething in young children
foreign objects in the ear
injury to the ear
hearing loss
fluid in the middle ear
cholesteatoma (a skin cyst in the middle ear)
perforated eardrum
During the examination, the doctor may carefully remove excess earwax in the ear canal if it is blocking the view of the eardrum.
Continue Learning about Ear, Nose and Throat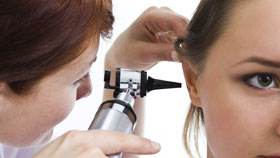 Ear, nose and throat (ENT) problems can impact your life in many ways, affecting your hearing, sleep, breathing, and even your sense of balance. An otolaryngologist, also called a head and neck surgeon, treats these issues, as wel...
l as more serious problems like cancer. Learn more about ear, nose and throat problems from our experts.
More