Acute parotitis is inflammation of the parotid glands. The parotid gland is above the jaw and in front of the ear. This gland is one of several that make saliva. Swelling and pain of the parotid gland may be caused by viral infection, such as mumps. Sometimes there can be swelling, narrowing or even blockage of the duct of the gland that leads to parotitis.
Acute parotitis is recent swelling of one of the salivary glands. Many things can cause it, including viruses and bacteria. Acute viral parotitis is not a common symptom of flu virus infection. It is much more commonly seen following infection with the mumps virus.

We don't know exactly how commonly parotitis occurs with flu. Before 2014, scientific literature reported about a dozen cases. However, during the 2014–2015 flu season in the United States, several hundred cases were reported to the Centers for Disease Control and Prevention (CDC), representing the largest number of reported cases ever.

The presence of the CDC logo and CDC content on this page should not be construed to imply endorsement by the US Government of any commercial products or services, or to replace the advice of a medical professional. The mark "CDC" is licensed under authority of the PHS.
Continue Learning about Ear, Nose and Throat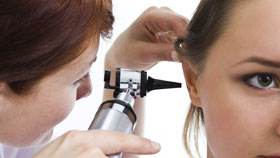 Ear, nose and throat (ENT) problems can impact your life in many ways, affecting your hearing, sleep, breathing, and even your sense of balance. An otolaryngologist, also called a head and neck surgeon, treats these issues, as wel...
l as more serious problems like cancer. Learn more about ear, nose and throat problems from our experts.
More