A laryngoscopy is an in-office procedure that treats and identifies symptoms of coughing up blood, sore throat and voice changes. Watch Chadwick Ahn, MD, of Frankfort Regional Medical Center, explain this procedure.
A laryngoscopy is a procedure in which a medical professional examines the larynx. There are two types of laryngoscopies that are used to diagnose laryngeal cancer. The first is an indirect laryngoscopy. In an indirect laryngoscopy, a doctor uses a mirror to make sure that your vocal folds move properly. The other type is the direct laryngoscopy. This is similar except that instead of a mirror, a lighted tube is used to visualize your larynx. Both procedures are performed under local anesthesia.
Continue Learning about Ear, Nose and Throat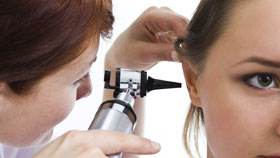 Ear, nose and throat (ENT) problems can impact your life in many ways, affecting your hearing, sleep, breathing, and even your sense of balance. An otolaryngologist, also called a head and neck surgeon, treats these issues, as wel...
l as more serious problems like cancer. Learn more about ear, nose and throat problems from our experts.
More