Never try to remove earwax by placing a device into your ear canal. This could make the problem worse. If you can't unblock the wax yourself, see your doctor for assistance. Your doctor will want to know if you have ever had ear surgery or a perforation in your eardrum. The doctor or a trained assistant may use a small, curved instrument called a curette to remove the wax, or may irrigate the ear canal using a bulb syringe filled with warm water to flush out the wax.
Continue Learning about Ear, Nose and Throat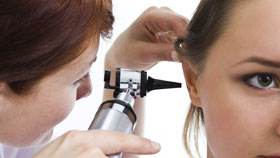 Ear, nose and throat (ENT) problems can impact your life in many ways, affecting your hearing, sleep, breathing, and even your sense of balance. An otolaryngologist, also called a head and neck surgeon, treats these issues, as wel...
l as more serious problems like cancer. Learn more about ear, nose and throat problems from our experts.
More