Ear popping is caused by the Eustachian tube, which normally equalizes pressure between the inner ear and the throat. When the Eustachian tube is dysfunctional due to a cold, allergies or change in altitude such as during a plane ride, the ear can pop as pressure is released and air is forced out.
When your ears pop, it's your body's way of preventing a ruptured ear drum when the pressure inside your ear is drastically different from the outside.

The fix: Hold your nose and close your mouth, and blow gently. As long as you're careful and gentle, it's not harmful to your body, and will help regulate the pressure in your ear.

Ear popping is a sensation that nearly everyone has experienced at one time or another. Watch as Dr. Oz explains why ears pop in this video.
Continue Learning about Ear, Nose and Throat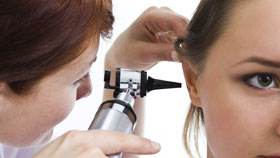 Ear, nose and throat (ENT) problems can impact your life in many ways, affecting your hearing, sleep, breathing, and even your sense of balance. An otolaryngologist, also called a head and neck surgeon, treats these issues, as wel...
l as more serious problems like cancer. Learn more about ear, nose and throat problems from our experts.
More