An otolaryngologist will treat cancers of the head and neck, skin and throat. Watch Chadwick Ahn, MD, of Frankfort Regional Medical Center, explain the different cancers treated by otolaryngologists.
An otolaryngologist, also called an ear, nose and throat doctor, is a specialist who can diagnose and medically or surgically treat cancer of the head, neck, ear, nose, or throat, including the mouth.


Continue Learning about Ear, Nose and Throat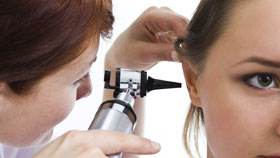 Ear, nose and throat (ENT) problems can impact your life in many ways, affecting your hearing, sleep, breathing, and even your sense of balance. An otolaryngologist, also called a head and neck surgeon, treats these issues, as wel...
l as more serious problems like cancer. Learn more about ear, nose and throat problems from our experts.
More