Ear wax, that golden stuff that can itch and be a nuisance if it builds up too much, should be left alone in most cases, according to recent national guidelines.
Ear wax is a self-cleaning agent, with protective antibacterial properties, doctors say.
Older adults, however, can be more prone to ear wax buildup, which can cause pressure, pain, ringing in the ear and even diminished hearing in the worse cases.
Guidelines also advise people not to use cotton-tipped swabs to remove ear wax. They can do more harm than good. If drops or an ear wash at home don't do the trick, then see your doctor.
Drop that Q-tip! Ear wax is actually good for you. In this video, Dr. Rick Jensen explains why ear wax is important and how the ear takes care of cleaning all by itself.
Continue Learning about Ear, Nose and Throat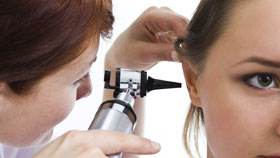 Ear, nose and throat (ENT) problems can impact your life in many ways, affecting your hearing, sleep, breathing, and even your sense of balance. An otolaryngologist, also called a head and neck surgeon, treats these issues, as wel...
l as more serious problems like cancer. Learn more about ear, nose and throat problems from our experts.
More