Earwax is a normal finding in all children. It varies from a small amount to quite a large amount. There's nothing wrong with having a large amount of earwax. You should never put anything in your child's ear (including Q-tips) to clean it. The wax is made inside the ear to clean out any dust and debris, and that's what it is designed to do. When you use Q-tips, you can actually push the wax back inside the ear where it dries out and becomes stuck. At that point, if a physician needs to look at your ears, they'll actually have to dig out that hard wax, which is very uncomfortable for infants. So, the best thing to do is to let it come out on its own. When you can see it on the edge of the ear canal, you can use a washcloth to clean that part off.
Continue Learning about Ear, Nose and Throat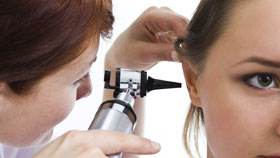 Ear, nose and throat (ENT) problems can impact your life in many ways, affecting your hearing, sleep, breathing, and even your sense of balance. An otolaryngologist, also called a head and neck surgeon, treats these issues, as wel...
l as more serious problems like cancer. Learn more about ear, nose and throat problems from our experts.
More