Exposure to loud noises causes sensorineural hearing loss by damaging the hair cells in the inner ear. The damage can be mild and cause temporary swelling or be severe and rupture the hair cells. Mild damage can be repaired with recovery of hearing. Severe damage leads to permanent loss. Loud noise also increases the risk of tinnitus, or ringing in the ears.

How much damage is done depends on the loudness of the noise and how long it lasts, as well as a person's sensitivity to the ill effects of loud sounds. Spending a night at a loud rock concert can cause temporary hearing loss that lasts for several hours or several days. But going to loud concerts on a regular basis can cause cumulative damage to hair cells that leads to permanent hearing loss. Use of headphones and earbuds to listen to music is fine as long as the volume is kept at a comfortable level. They do make it easier to listen to music at a level that can damage hearing though.
Continue Learning about Ear, Nose and Throat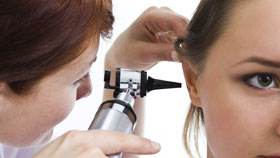 Ear, nose and throat (ENT) problems can impact your life in many ways, affecting your hearing, sleep, breathing, and even your sense of balance. An otolaryngologist, also called a head and neck surgeon, treats these issues, as wel...
l as more serious problems like cancer. Learn more about ear, nose and throat problems from our experts.
More