The inner ear contains the organs of balance - the three semicircular canals and the utricle and saccule. They contain fluid and work like a carpenter's level, to detect movement of the head in space. The semicircular canals detect rotational movement, and the utricle and saccule sense to-and-fro movement. These organs change the sensation of motion to nerve impulses that travel to the brain and result in compensatory movements of the body and the eyes.
Hearing isn't the only thing the ear does. The inner ear contains the body's balance mechanism, which is why problems with balance and hearing often accompany one another. The balance mechanism, called the vestibular system, is housed in an inner ear structure called the labyrinth. The labyrinth is made up of three semicircular tubes arranged in a cloverleaf shape and two organs – the utricle and saccule. . The tubes of the labyrinth are similar to the cochlea, a snail-shaped structure in the inner ear, in that they consist of bone-encased membranes filled with fluid and lined with hair cells. As you move, the fluid in the inner ear shifts and bends the hair cells, stimulating them to fire a message to the brain telling it how much you moved and in which direction. If you spin around very fast, the fluid can't move fast enough to tell your brain your exact position, so you feel dizzy.
Continue Learning about Ear, Nose and Throat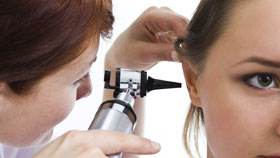 Ear, nose and throat (ENT) problems can impact your life in many ways, affecting your hearing, sleep, breathing, and even your sense of balance. An otolaryngologist, also called a head and neck surgeon, treats these issues, as wel...
l as more serious problems like cancer. Learn more about ear, nose and throat problems from our experts.
More