Your child's doctor will talk with you about specific care for your child. Some general guidelines to follow include:
You may use over-the-counter earwax removal drops.
Hydrogen peroxide or warm mineral oil may be used to loosen the earwax in the ear canal. Your child's doctor can explain how to do this to you.
After softening the wax with peroxide or mineral oil, rinse gently with a bulb syringe filled with lukewarm water. Cold water can cause dizziness.
If your child has had tubes in his ears, check with your child's doctor before using any of the above treatments.
Continue Learning about Ear, Nose and Throat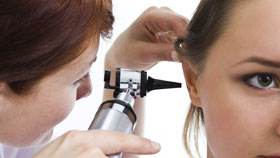 Ear, nose and throat (ENT) problems can impact your life in many ways, affecting your hearing, sleep, breathing, and even your sense of balance. An otolaryngologist, also called a head and neck surgeon, treats these issues, as wel...
l as more serious problems like cancer. Learn more about ear, nose and throat problems from our experts.
More