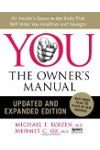 Earwax is designed to come out naturally. After it traps foreign substances-it's main duty-earwax is pushed to the outer area of the canal, where it dries up and is supposed to tumble out of your ear.

Of course, this auto-eject system doesn't always work perfectly. However, don't be tempted to use a Q-Tip, fingernail, or fishhook to pull wax out of your ear. Bad idea! Anything you put in your ear acts as a ramrod and shoves the wax in deeper (not to mention that it risks puncturing your ear drum), which can hinder sound waves from making it to your main auditory processing center.

Instead, here's a much safer trick you can use to remove excess ear wax: Put a drop of mineral oil in your ear, then lie down on the side of your opposite ear to let the oil seep in. Lie there for about an hour, and the wax will get dissolved in the mineral oil. Just let the oil-wax mixture slide out onto a napkin or two as you turn the other side up.