An ear problem may be from the inner, middle or outer ear. The eardrum can rupture from a direct blow, infection, loud noise or deep dive. Dirt and bacteria from the outer canal can travel into the inner ear, causing an infection. Drainage from the ear can also be a sign of a head injury. Ear conditions can effect hearing, balance and cause dizziness.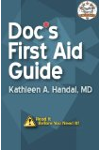 More About this Book
Doc's First Aid Guide: Read It Before You Need It
In a medical emergency, time is of the essence. "Doc's First Aid Guide" is an illustrated, first-aid pocket handbook designed to be used as a quick reference and includes the latest CPR guidelines....
Continue Learning about Ear Injury