An ear problem may be from the inner, middle or outer ear. The eardrum can rupture from a direct blow, infection, loud noise or deep dive. Dirt and bacteria from the outer canal can travel into the inner ear, causing an infection. Drainage from the ear can also be a sign of a head injury. Ear conditions can effect hearing, balance and cause dizziness.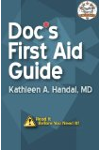 More About this Book
Doc's First Aid Guide: Read It Before You Need It
In a medical emergency, time is of the essence. "Doc's First Aid Guide" is an illustrated, first-aid pocket handbook designed to be used as a quick reference and includes the latest CPR guidelines....
Continue Learning about Ear Injury


If you have an ear injury, you may experience symptoms like earache, clear or bloody discharge from the ear, or changes in or loss of hearing. Ear injuries can also cause dizziness, nausea, and other symptoms. If you are injured a...
nd have severe pain in your ear or other worrisome symptoms, have your doctor examine your ear. Do not try to stick tweezers or cotton swabs in your ear to remove a lodged object as this might make the injury worse. If your ear is bleeding or wounded, wash the cut and apply a compress. Continued bleeding after 10 minutes may need to be checked out by a medical professional.
More