The following are the signs and symptoms of associated with an ear problem:
Dizziness, vertigo, loss of balance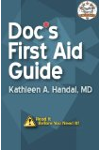 More About this Book
Doc's First Aid Guide: Read It Before You Need It
In a medical emergency, time is of the essence. "Doc's First Aid Guide" is an illustrated, first-aid pocket handbook designed to be used as a quick reference and includes the latest CPR guidelines....
Continue Learning about Ear Disorders

Your ear is a complex organ composed of the outer, middle and inner ear (as well as fluid). Any disorder involving your ear -- ear infections, tinnitus, Meniere's disease -- can affect either your hearing or your balance. Treatmen...
t options for ear disorders vary based on the type of disorder you have.
More