An ear infection happens when the inside of your ear gets stuffy, just like your nose. Your ear can fill up with fluid. This can cause redness, swelling and pain. Ear infections often happen after a cold or the flu. They are common in children but can happen in adults too.
In acute ear infection (otitis media), the middle ear, including the eardrum, becomes inflamed and infected. Ear infection is usually preceded by an upper respiratory infection or allergy. Chronic ear infection (serous otitis media) includes a constant swelling of the middle ear, which can be a fertile breeding ground for an acute ear infection. Recurrent bouts of acute ear infection are responsible for more office visits by children to pediatricians than any other reason.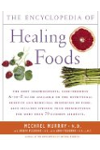 More About this Book
Encyclopedia of Healing Foods
From the bestselling authors of The Encyclopedia of Natural Medicine, the most comprehensive and practical guide available to the nutritional benefits and medicinal properties of virtually everything...
Continue Learning about Ear Disorders