One of the most serious causes of scuba diving injuries is decompression sickness (often called "the bends").

Decompression sickness is caused by the formation of nitrogen gas bubbles inside blood vessels and tissues. Excess nitrogen accumulates in the body when a diver breathes at a depth greater than 33 feet (10 m). Decompression sickness occurs when ascent is too rapid to allow the release of this excess nitrogen. Divers notice symptoms within minutes or hours after surfacing.

Signs and symptoms: Fatigue and musculoskeletal pain, particularly around joints such as the shoulders or elbows. Pain may be a dull ache but may also be sharp or throbbing. More severe cases may lead to unconsciousness, low blood pressure, and a fast heart rate.

Treatment: Transport the person for recompression treatment in a hyperbaric (oxygen) chamber. If an aircraft is used, ideally the cabin should be pressurized to sea level. If the patient is flown out by helicopter (unpressurized), the pilot should try to stay below 1000 ft (330 m) above sea level. Keep the person facing up, and have a medical team administer oxygen and other necessary interventions.

Help with dive-related incidents is available 24 hours a day. Call the Divers Alert Network at Duke University (in the United States) at 919-684-8111.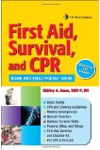 More About this Book
First Aid, Survival, and CPR: Home and Field Pocket Guide
Be prepared for first aid care and survival in any setting-at home, on the road, outdoors, while boating, hiking, or camping. From performing CPR on an adult, child, or infant to dealing with bleeding and shock, cuts and broken bones, heart attacks, emergency childbirth, poisoning, drowning, scuba diving mishaps, wilderness survival, and natural disasters such as tornadoes, wildfires, floods, and earthquakes. This portable, waterproof guide helps you quickly find the information you need to develop a plan of action for assessing and treating all kinds of first aid and survival emergencies. A special feature includes pet safety describing how to assemble a pet first aid kit, performing CPR on a dog and cat, and keeping pets safe during natural disasters. Keep a copy in your home, car, boat, camper, or backpack and be "ready" when emergencies occur.
Continue Learning about Ear Disorders