Viruses may cause up to 80 percent of ear infections, causing inflammation and infection of the middle ear, which is located just behind the eardrum. Antibiotics have no effect on viruses. For bacterial-related ear infections, the culprit is Streptococcus pneumonia, which results in millions of ear infections each year in the United States. The problem is that many of these bacteria are now resistant to drugs in the penicillin family and resistance to other medications is growing. Ear infections can occur with a viral infection such as a cold virus. Then a secondary bacterial infection may occur that needs medical attention.
Ear infections, the most common name for acute otitis media (AOM), account for 35 percent of all pediatric visits, although millions of adults suffer with ear infections and ear pain, too.
The primary risk factors for an ear infection in children are day care attendance, wood-burning stoves, parental smoking (or exposure to other secondhand smoke), and not being breast-fed. Besides day care, where infection is contagious, all of the other factors have something in common: they lead to abnormal eustachian tube function, the underlying cause in virtually all cases of acute ear infection. The eustachian tube regulates gas pressure in the middle ear, protects the middle ear from nose and throat secretions and bacteria, and clears fluids from the middle ear. Swallowing causes active opening of the eustachian tube due to the action of the surrounding muscles. Infants and small children are particularly susceptible to eustachian tube problems since theirs are smaller in diameter and more horizontal.
Abnormal eustachian tube function leads first to fluid buildup and then, if bacteria start to grow, bacterial infection. It results from collapse of the tube (due to weak tissues holding the tube in place and/or an abnormal opening mechanism), blockage with mucus in response to allergy or irritation, or infection.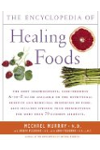 More About this Book
Encyclopedia of Healing Foods
From the bestselling authors of The Encyclopedia of Natural Medicine, the most comprehensive and practical guide available to the nutritional benefits and medicinal properties of virtually everything...
Continue Learning about Ear Disorders