I am so glad parents are asking this question. It tells me that they are aware of the risks of overusing antibiotics. The answer? It depends. If the child is younger than two, has a high fever, is in severe pain, or has underlying chronic medical problems, I usually recommend starting antibiotics. But about 80 percent of ear infections will heal without an antibiotic. So please don't demand antibiotics. I know it's tempting, especially if your child is miserable and you've taken the morning off from work to visit the doctor. But using antibiotics unnecessarily not only exposes your child to possible side effects from the medication but also encourages antibiotic-resistant bacteria strains, which are becoming a deadlier problem every year in the U.S.
Besides, even kids who are taking an antibiotic for an ear infection will often feel a lot better in twenty-four hours due to the pain medication I've suggested, not the antibiotic, which is just starting to work at that point. So if your child is otherwise healthy, try treating the ear infection with pain medication only and schedule a follow-up appointment in two to three days.
However, that follow-up appointment is a must, because 20 percent of ear infections will not heal on their own and could lead to a hearing problem or other complications.
From The Smart Parent's Guide: Getting Your Kids Through Checkups, Illnesses, and Accidents by Jennifer Trachtenberg.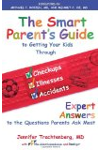 Antibiotics may be one component for treating a child's ear infection, or otitis media (middle ear infection). Many ear infections are viral and do not need antibiotics. Of the bacterial ear infections, our body is able to clear most of them without antibiotics. It's estimated that for every seven children given antibiotics for ear infections, only one benefits (with slightly earlier improvement). Yet for every 10 children given antibiotics for an ear infection, one will get significant diarrhea. Therefore, if you think your child has an ear infection, you should discuss this with his or her doctor.
In the United States and other developed countries, ear infections do not necessarily require antibiotic therapy. Often times, providing pain relief with acetaminophen or ibuprofen is enough. About 1 in 20 children benefits from antibiotic therapy for an ear infection. 60% of children will not need antibiotics to recover in 10 to 14 days. Antibiotics appear to be most helpful in treating children younger than 2 years old with drainage from the infected ear or with infection in both ears. Though 95% of children in the United States are prescribed antibiotics for ear infections, it is reasonable in many cases to pursue a "watchful waiting" approach depending on your child's particular case. Talk to your child's pediatrician about what's right for your child.
Continue Learning about Ear Disorders