Dry mouth usually results from low fluid intake combined with the frequent urination that accompanies psychotropic medications for bipolar disorder such as lithium. The solution is to drink a lot of fluids. Drinking a minimum of eight ounces of fluids every hour that you're awake is essential for beating this very common symptom, which results from the diuretic properties of many psychotropic medications. You may even find that you need more than eight ounces to keep dry mouth at bay. Find your comfort zone and focus on drinking water. Avoid diuretics such as caffeine, which is commonly found in some sodas, coffee, and green or black teas. Some good options are a fifty-fifty juice-water combination (sparkling water gives you a refreshing spritzer), herbal teas, sparkling mineral water, or lightly flavored waters.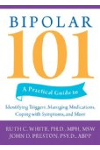 Continue Learning about Dry Mouth (Xerostomia)

If you've ever taken an antihistamine, decongestant, antidepressant or a number of other drugs, you may have experienced dry mouth (xerostomia). Dry mouth is caused by a lack of saliva or your saliva may feel thick and stringy. Si...
de effects of medication are the most common cause of dry mouth. Fortunately there are remedies for dry mouth; talk to your doctor if symptoms are severe. Learn more about preventing and treating dry mouth with expert advice from Sharecare.
More