The old adage "if it sounds too good to be true, it probably is" holds true when it comes to evaluating claims for health products. Before spending your hard earned cash, check the claims to make sure they don't raise any of the 10 Red Flags of Junk Science:
Recommendations that promise a quick fix
Dire warnings of danger from a single product or regimen
Claims that sound too good to be true
Simplistic conclusions drawn from a complex study
Recommendations based on a single study
Statements refuted by reputable scientific organizations
Lists of "good" and "bad" foods
Recommendations made to help sell a product
Recommendations based on studies not peer reviewed
Recommendations from studies that ignore differences
Source: Academy of Nutrition and Dietetics, Food and Nutrition Science Alliance
You know the adage about something that sounds too good to be true, right? Watch for claims supported by unidentified studies or testimonials from people using phrases like "it saved my life, improved my sexual performance, and buttered my bread, too." Be especially wary of testimonials coming from people who had completely different problems; if a single product cured one person's dandruff and boosted another's short- term memory, you can bet it'll do neither for you. Also be skeptical of products from foreign manufacturers who may use impure ingredients that would be hard to find (and sue).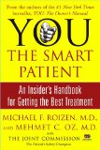 Continue Learning about Drug Safety