For centuries, people with Down syndrome have been alluded to in art, literature and science. It wasn't until the late 19th century, however, that John Langdon Down, an English doctor, published an accurate description of a person with Down syndrome. It was this scholarly work, published in 1866, that earned Down the recognition as the "father" of the syndrome. Although other people had previously recognized the characteristics of the syndrome, it was Down who described the condition as a distinct and separate entity.

This content originally appeared on the National Down Syndrome Society website.
Continue Learning about Down Syndrome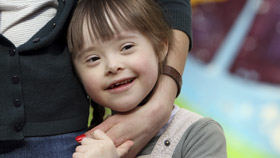 Down syndrome, or trisomy 21, is caused by the presence of a third copy of chromosome 21. The risk for Down syndrome is higher in babies of mothers older than 35, who are more likely to have abnormal eggs that may lead to the cond...
ition. Common symptoms include problems in growth, hearing, vision and immunity, along with problems of the thyroid, heart, muscles and nerves. The severity of these symptoms varies from person to person.
More