The risk of having a child with Downs Syndrome increases directly with increasing maternal age. For example, it is estimated that a 25 year old mother has a 1/1300 risk of having a Downs child and a 35 year old has a risk of 1/365. Other risk factors include a family history and a previous child with Downs.
Any mother, regardless of nationality, race, or behavior, might have a baby with Down syndrome (DS). But, females over 35 have a greater chance than those under 35. This is thought to be the case because the older an egg gets, the greater its risk for abnormal division.
Also, a mother who has previously had a child with DS has a slight increased risk for a subsequent pregnancy with DS (about a 1 percent chance), and those who are known as balanced carriers (referring to the translocation form of DS) have a greater risk as well.
Continue Learning about Down Syndrome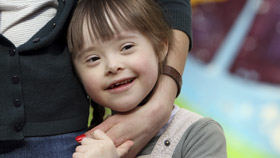 Down syndrome, or trisomy 21, is caused by the presence of a third copy of chromosome 21. The risk for Down syndrome is higher in babies of mothers older than 35, who are more likely to have abnormal eggs that may lead to the cond...
ition. Common symptoms include problems in growth, hearing, vision and immunity, along with problems of the thyroid, heart, muscles and nerves. The severity of these symptoms varies from person to person.
More