A few of the common physical traits of Down syndrome are low muscle tone, small stature, an upward slant to the eyes and a single deep crease across the center of the palm -- although each person with Down syndrome is a unique individual and may possess these characteristics to different degrees, or not at all.

This content originally appeared on the National Down Syndrome Society website.
Continue Learning about Down Syndrome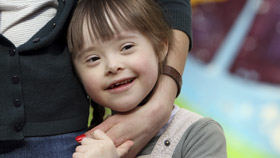 Down syndrome, or trisomy 21, is caused by the presence of a third copy of chromosome 21. The risk for Down syndrome is higher in babies of mothers older than 35, who are more likely to have abnormal eggs that may lead to the cond...
ition. Common symptoms include problems in growth, hearing, vision and immunity, along with problems of the thyroid, heart, muscles and nerves. The severity of these symptoms varies from person to person.
More