There are many symptoms and conditions associated with Down syndrome. Some of the systems in the body that are commonly affected include: growth, hearing, vision, thyroid, sleep, heart, immunity, muscle and nerve problems.
The symptoms and conditions related to Down syndrome (DS) can vary widely from individual to individual. Not everyone with DS will experience these symptoms and conditions or the same level of severity.
Physical appearance: People with DS tend to have a slant to their eyes, a flatter face than typical, a smaller stature, and hypotonia, or floppy, loose muscles due to low muscle tone.
Medical conditions: There may be health problems due to heart defects, hypothyroidism, visual and hearing conditions, spinal abnormalities, seizure disorders, dementia, and leukemia.
Cognitive challenges: Individuals with DS may also have a cognitive delay (most having mild to moderate levels). Children may struggle with processes involved in meeting speech and fine and gross motor milestones.
Continue Learning about Down Syndrome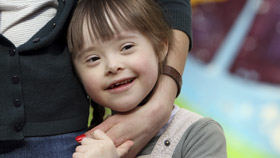 Down syndrome, or trisomy 21, is caused by the presence of a third copy of chromosome 21. The risk for Down syndrome is higher in babies of mothers older than 35, who are more likely to have abnormal eggs that may lead to the cond...
ition. Common symptoms include problems in growth, hearing, vision and immunity, along with problems of the thyroid, heart, muscles and nerves. The severity of these symptoms varies from person to person.
More