Children with Down Syndrome require a multidisciplinary tem approach to care as a variety of complications may be present. Having a primary care doctor to coordinate this care is essential. Specialists such as cardiologists, gastroenterologists, neurologists, endocrinologists, physical therapists, developmental specialists, occupational therapists, and speech pathologists may be needed depending upon the child's individual needs. This team approach can help ensure that the child is receiving the medical care needed to maintain good health and develop to the child's fullest potential.
Even though there is no cure for Down syndrome, you should definitely talk to a doctor about it. Down syndrome has been linked to a number of medical conditions (some that are serious), so it is important for a doctor to be able to diagnose these other problems early and recommend treatment for them. Luckily, Down syndrome is a well-known disorder, so doctors have a good idea of what associated conditions to investigate.
Continue Learning about Down Syndrome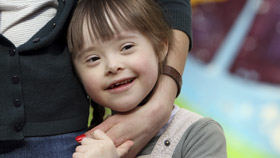 Down syndrome, or trisomy 21, is caused by the presence of a third copy of chromosome 21. The risk for Down syndrome is higher in babies of mothers older than 35, who are more likely to have abnormal eggs that may lead to the cond...
ition. Common symptoms include problems in growth, hearing, vision and immunity, along with problems of the thyroid, heart, muscles and nerves. The severity of these symptoms varies from person to person.
More