Occupational therapy (OT) centers on helping an individual to accomplish tasks that require the coordination of movements, mostly those involving the hands and arms (fine motor) but also the mouth (oral motor). Many everyday activities, like drinking from a cup, putting on a coat, or writing with a pencil, rely on fine-motor or oral motor skills. Children with Down syndrome may have low muscle tone and shorter fingers than typical, making such self-care tasks difficult. OT can help children strengthen muscles and refine dexterity to make these everyday activities more manageable.
Continue Learning about Down Syndrome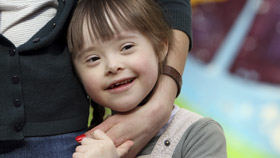 Down syndrome, or trisomy 21, is caused by the presence of a third copy of chromosome 21. The risk for Down syndrome is higher in babies of mothers older than 35, who are more likely to have abnormal eggs that may lead to the cond...
ition. Common symptoms include problems in growth, hearing, vision and immunity, along with problems of the thyroid, heart, muscles and nerves. The severity of these symptoms varies from person to person.
More