There is no specific treatment for Down syndrome, although there are treatments for many of the problems caused by Down syndrome. For example, some heart defects that are common in children with Down syndrome can be treated with surgery. It's important to screen these children for certain complications at regular intervals in order to address them as soon as they arise. For example, a child with Down syndrome should be screened frequently for vision and hearing problems, which may be treated with measures such as eyeglasses or hearing aides.
There is no medication that treats Down syndrome as a condition. It is a genetic disorder, so there is no way to reverse it. Yet, there may be medications that treat the various conditions relating to Down syndrome. For instance, people with hypothyroidism may take synthetic hormone to balance the hormone levels appropriately. People may need to take blood pressure medication if they have congenital heart disease. Those affected by seizure disorders may take anti-epileptic medications.
Continue Learning about Down Syndrome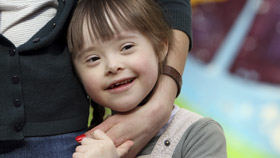 Down syndrome, or trisomy 21, is caused by the presence of a third copy of chromosome 21. The risk for Down syndrome is higher in babies of mothers older than 35, who are more likely to have abnormal eggs that may lead to the cond...
ition. Common symptoms include problems in growth, hearing, vision and immunity, along with problems of the thyroid, heart, muscles and nerves. The severity of these symptoms varies from person to person.
More