You should have good familiarity with the possible related health conditions the individual is experiencing. Stay in contact with doctors, specialists, and therapists to let them know how the individual is doing with treatment or if any new symptoms have arisen. Even if the person is healthy and showing no signs of other medical problems, it would be a good idea for you to read up on the conditions associated with Down syndrome so you know what questions to ask medical professionals or what signs and symptoms to watch out for.
Most of all, though, understanding that a person with Down syndrome can accomplish many goals and live a full life will help the person you care for immeasurably.
Continue Learning about Down Syndrome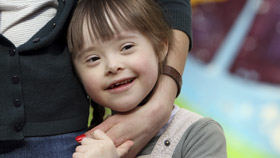 Down syndrome, or trisomy 21, is caused by the presence of a third copy of chromosome 21. The risk for Down syndrome is higher in babies of mothers older than 35, who are more likely to have abnormal eggs that may lead to the cond...
ition. Common symptoms include problems in growth, hearing, vision and immunity, along with problems of the thyroid, heart, muscles and nerves. The severity of these symptoms varies from person to person.
More