People with Down syndrome socialize and have meaningful friendships. Some choose to date, maintain ongoing relationships and marry. Adults with Down syndrome are not children, and should not be considered children. They enjoy activities and companionship with other adults, and have similar needs and feelings as their typical peers.

This content originally appeared on the National Down Syndrome Society website.
Continue Learning about Down Syndrome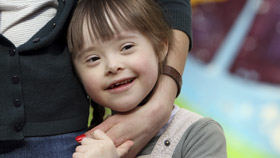 Down syndrome, or trisomy 21, is caused by the presence of a third copy of chromosome 21. The risk for Down syndrome is higher in babies of mothers older than 35, who are more likely to have abnormal eggs that may lead to the cond...
ition. Common symptoms include problems in growth, hearing, vision and immunity, along with problems of the thyroid, heart, muscles and nerves. The severity of these symptoms varies from person to person.
More