All three types of Down syndrome are genetic conditions (relating to the genes), but only one percent of all cases of Down syndrome have a hereditary component (passed from parent to child through the genes). Heredity is not a factor in two types of Down syndrome, trisomy 21 (nondisjunction) and mosaicism. Translocation, a type of Down syndrome that accounts for three to four percent of all cases, is the only type of Down syndrome known to have a hereditary component. Of those, one-third (or one percent of all cases of Down syndrome) are hereditary.

The age of the mother does not seem to be linked to the risk of translocation; most cases are sporadic, chance events. However, in about one-third of cases, one parent is a carrier of a translocated chromosome.

This content originally appeared on the National Down Syndrome Society website.
Continue Learning about Down Syndrome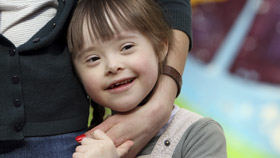 Down syndrome, or trisomy 21, is caused by the presence of a third copy of chromosome 21. The risk for Down syndrome is higher in babies of mothers older than 35, who are more likely to have abnormal eggs that may lead to the cond...
ition. Common symptoms include problems in growth, hearing, vision and immunity, along with problems of the thyroid, heart, muscles and nerves. The severity of these symptoms varies from person to person.
More