A partial colectomy for diverticulosis involves surgically improving the affected part of the colon. Watch this video with Salvador Guerrero, MD from Oak Hill Hospital to learn more.
For severe attacks of diverticulitis, when complications develop or when individuals have repeated episodes of diverticulitis requiring antibiotics, surgery may be an option. Surgery usually entails removal of the portion of the colon (partial colectomy) that has been affected with diverticulitis.
Continue Learning about Diverticulitis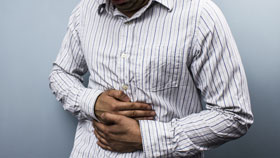 Diverticulitis occurs when diverticula (small, bulging pouches in the digestive tract) become infected or inflamed. Some signs of diverticulitis include severe pain, bloating that persists for weeks, constipation and blood in your ...
stool. Treatment includes changes in diet, antibiotics and surgery.
More