Aging, diet, obesity, lack of exercise, smoking, and drugs.
AGING
About one of every three Americans will develop small pouches (diverticula) of the colon (diverticulosis) by age 60, and two of every three will have diverticulosis by age 85. Most people with diverticulosis don't have any symptoms from the condition unless they develop one of two complications: either rectal bleeding or inflammation, called diverticulitis. The main symptom of diverticulitis is pain, usually located in the left lower abdomen. So the older one gets, the more likely they will develop diverticulosis and have a complication.
DIET
Doctors used to advise people with diverticulosis to avoid nuts, seeds, corn, and popcorn, since it was thought that they could get stuck in the diverticula and cause diverticulitis. However, there is no scientific evidence that this is true. Furthermore, a study published in the August 27, 2008 issue of the Journal of the American Medical Association led by researcher Lisa L. Strate, MD, found that these fiber-containing foods may actually lower the risk of developing diverticulitis.
I advise patients with diverticulosis that there is not only no evidence of harm from eating these fiber-containing foods, there is scientific evidence of benefit of ingesting these foods and dietary fiber. Still, some believe that nuts, seeds, corn, and popcorn trigger their attacks of diverticulitis, so they should avoid them and try to get enough dietary fiber from other sources.
OBESITY
Being considerably overweight increases risk of developing diverticulitis.
LACK OF EXERCISE
For unclear reasons, being inactive increases risk of developing diverticulosis.
SMOKING
For unclear reasons, smoking increases the risk of developing diverticulitis.
DRUGS
Researchers, again led by Dr. Lisa L. Strate, report in the May, 2011 issue of the medical journal, Gastroenterology that the use of aspirin and NSAIDs (non-steroidal anti-inflammatory drugs, such as ibuprofen and naproxen) raise the risk for both diverticulitis and diverticular bleeding. The risk of diverticulitis increased as the frequency and dosing of the drug rose (so the higher the dose and/or the greater number of times the drug is taken, the higher the risk of developing diverticulitis).
The risk for diverticulitis increases as you get older. People over the age of 40 often develop diverticula - the sacs that, when inflamed, cause diverticulitis. Additionally, drugs that decrease the immune system's efficiency can increase your risk for diverticulitis because risk for infection with those types of medications is high. Research shows evidence that you may be at higher risk for diverticulitis if you eat a low-fiber diet, do not exercise regularly, or are obese; however, these risks can be managed by diet and exercise.
Continue Learning about Diverticulitis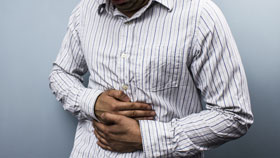 Diverticulitis occurs when diverticula (small, bulging pouches in the digestive tract) become infected or inflamed. Some signs of diverticulitis include severe pain, bloating that persists for weeks, constipation and blood in your ...
stool. Treatment includes changes in diet, antibiotics and surgery.
More