You should see your primary care physician, or your gastroenterologist. If you have had many attacks or a complication from your diverticulitis, and may hence need to consider surgery, you should see a colorectal surgeon.
Continue Learning about Diverticulitis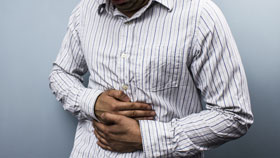 Diverticulitis occurs when diverticula (small, bulging pouches in the digestive tract) become infected or inflamed. Some signs of diverticulitis include severe pain, bloating that persists for weeks, constipation and blood in your ...
stool. Treatment includes changes in diet, antibiotics and surgery.
More