To understand diverticular disease you first must understand what a diverticulum is. A diverticulum is an out-pouching or sac-like protrusion on the wall of the colon. These tend to be hollow protrusions. People with multiple out-pouchings (diverticula) have diverticulosis. When people with diverticulosis have a clinically significant finding, such as pain, then they are said to have diverticular disease.
Diverticular disease is a gastrointestinal (GI) disease that can cause nonspecific symptoms similar to those of irritable bowel syndrome (IBS). Small, finger-like sacs or pouches -- known as diverticula -- may protrude off the colon's inner lining, where the blood vessels enter the colon, piercing its walls and causing areas of weakness. Although the condition is most common after age 50, younger people occasionally develop diverticula. When a diverticulum becomes inflamed or infected, the condition is called diverticulitis. The symptoms of diverticulitis are much more intense than those of IBS and include severe left lower abdominal pain, chills, fever, and an elevated white blood cell count.
Continue Learning about Diverticulitis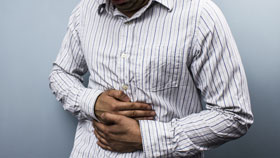 Diverticulitis occurs when diverticula (small, bulging pouches in the digestive tract) become infected or inflamed. Some signs of diverticulitis include severe pain, bloating that persists for weeks, constipation and blood in your ...
stool. Treatment includes changes in diet, antibiotics and surgery.
More