Complications of diverticulitis can include complete colon perforation, fistulas (tunnels) to the bladder or vagina, and narrowing or blockage of the intestine. Surgery is almost always required in these serious cases.

Bleeding typically does not occur with diverticulitis but can occur from one of the non-inflamed pockets (diverticulosis). Most bleeding from diverticulosis stops on its own, but blood transfusions and surgery are sometimes required.
Continue Learning about Diverticulitis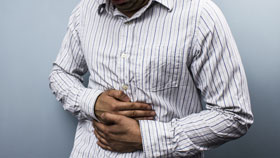 Diverticulitis occurs when diverticula (small, bulging pouches in the digestive tract) become infected or inflamed. Some signs of diverticulitis include severe pain, bloating that persists for weeks, constipation and blood in your ...
stool. Treatment includes changes in diet, antibiotics and surgery.
More