Diverticulosis is a condition of the large intestine. Watch Salvador Guerrero, MD from Oak Hill Hospital, share more about the condition in this video.
In most patients, diverticulosis causes no symptoms. The major cause of diverticulosis is increased pressure in the colon, which results when there is not enough fiber in the diet. This can cause the colon muscle to cramp or spasm, which pushes out the pockets.

These muscle spasms may cause crampy pain in the left lower abdomen in some patients.

In a small percentage of patients, complications of diverticulosis can occur. Rare, but possible, complications of diverticulosis include diverticulitis and gastrointestinal bleeding. For these patients, hospitalization and surgery may be necessary.
Most people who have diverticulosis are unaware that they have the condition because it usually does not cause symptoms. It is possible that some people with diverticulosis experience bloating, abdominal cramps or constipation due to difficulty in stool passage through the affected region of the colon.
Continue Learning about Diverticulitis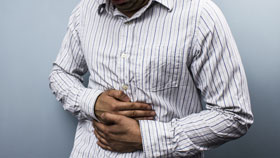 Diverticulitis occurs when diverticula (small, bulging pouches in the digestive tract) become infected or inflamed. Some signs of diverticulitis include severe pain, bloating that persists for weeks, constipation and blood in your ...
stool. Treatment includes changes in diet, antibiotics and surgery.
More