After having a partial colectomy for diverticulosis, patients should recover in a few weeks, though there may be bouts of diarrhea. Learn more about the procedure by watching this video with Salvador Guerrero, MD from Oak Hill Hospital.
Surgery can usually be performed with laparoscopy (mini incisions). During the procedure your surgeon uses a video-monitor to perform a 'laparoscopic colectomy' using long instruments introduced through small incisions on the outside of your abdomen to remove the affected segment of your colon and rejoin the remaining healthy portions back together.
Continue Learning about Diverticulitis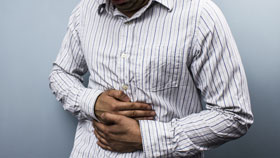 Diverticulitis occurs when diverticula (small, bulging pouches in the digestive tract) become infected or inflamed. Some signs of diverticulitis include severe pain, bloating that persists for weeks, constipation and blood in your ...
stool. Treatment includes changes in diet, antibiotics and surgery.
More